Who these sustainable doers are
Leon Timmermans (Co-owner and Managing Director at Star Sock): "I have been entrepreneurial in sustainability for over 15 years now, including in recent years in circular IT, which is increasingly the preferred choice for both consumers and B2B. Since mid-2022, I started working as a co-entrepreneur at Star Sock. The switch to fashion, specifically legwear, was very refreshing. It is a very creative market in which Star Sock operates, not only in terms of design but also in terms of sustainability and making products accessible to everyone. At Star Sock, sustainability has been our main focus for over 20 years. We are working on making our product more sustainable and among other things, are investigating the possibilities in product development together with our partners. Which materials and raw materials do we use during the production process? To what extent is our product recyclable or reusable? How do we prevent waste during production and even at the consumer? These are fascinating questions that we deal with every day. We see that we can contribute to the sustainable transformation of our industry."
Niels Willems (Founder of Brekr) "At only 16 years old I was able to legally ride a moped and since then my passion for these vehicles has only grown. In 2018, together with other visionaries, I was the founder and co-owner of Brekr - a Dutch brand that specializes in light electric vehicles on two wheels. But Brekr is more than just a moped brand. Our mission is to provide people with high-quality and innovative vehicles that are sustainable and have a minimal impact on the environment at the same time. In addition to our well-known moped, we have introduced a new fat bike since December, which will be available from August. We are extremely excited about the future of Brekr and can't wait to further expand our range with even more sustainable and stylish vehicles."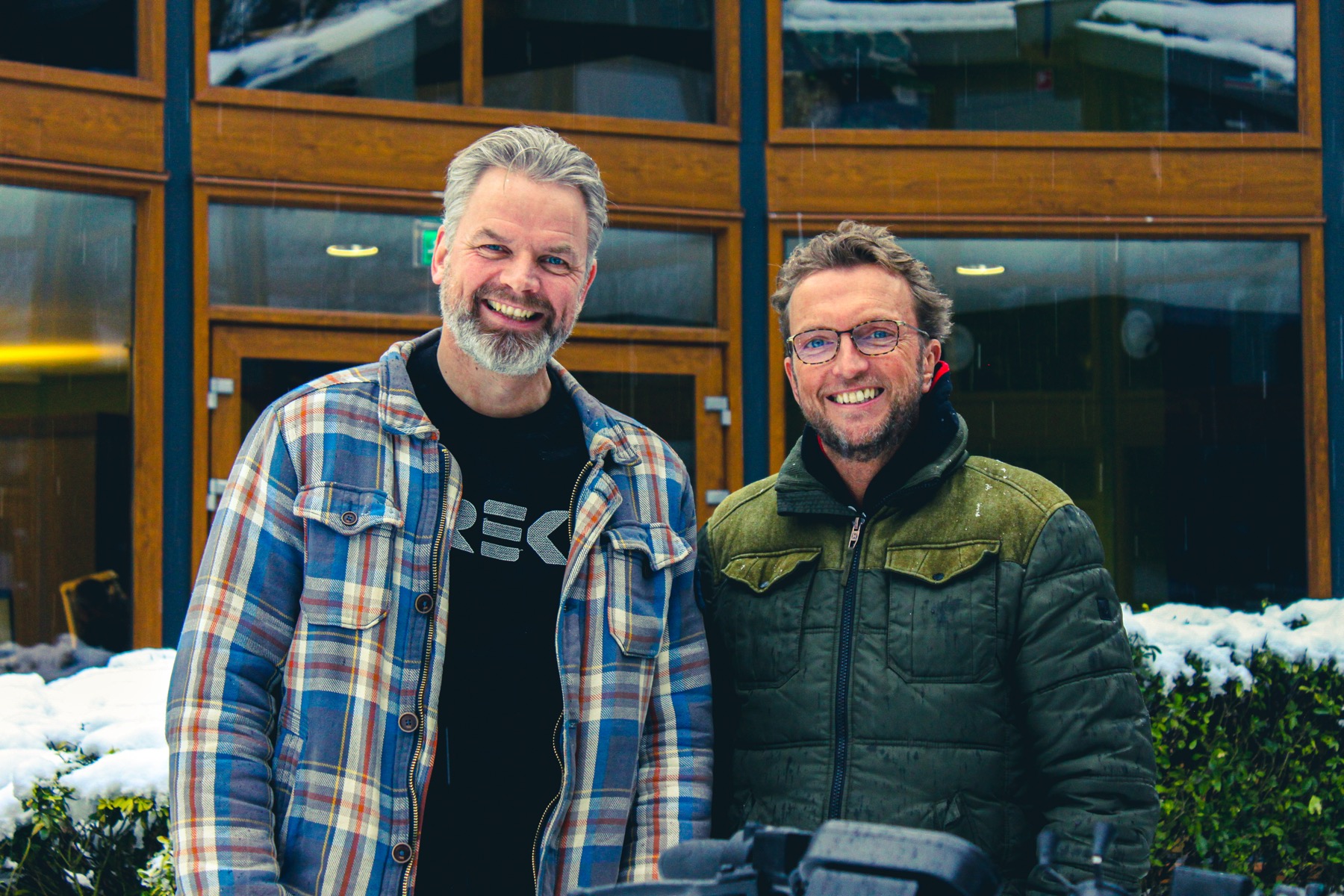 What does sustainable entrepreneurship mean to you?
Leon: "Sustainability has been in the DNA of Star Sock for over 20 years, which owns the brands Forebel and SockbySock, among others. Our sustainable building with a heat pump has been a wonderful example of our commitment to a better future for 17 years. We believe in working with our customers and suppliers to achieve improvements. We reduce plastic waste through small adjustments such as replacing plastic hooks with recyclable cardboard and connecting socks with yarn instead of plastic textile pins. Seemingly small details, but in practice, they result in a lot less plastic waste. Our continuous aim is to make sustainability accessible to everyone. More importantly, everyone in our team is open to the next sustainable improvements and also proactively shares them with our customers and/or colleagues in our industry. By actively working together we make more impact! A good example of this is that we make a financial donation with our own brands to NGOs such as the Healthy Seas Foundation and the WWF. All this because of the sale of socks!
Niels: "Brekr contributes to greener mobility by developing electric two-wheelers. Our goal is to seduce people with beautiful and smart vehicles that offer a sustainable alternative to the car. A car quickly weighs more than 1,500 kg and consumes a lot of energy, even if it is electric. On the other hand, bicycles and mopeds only require a fraction of the raw materials and are more economical to use, cheaper and easier to park. We believe that the vehicle of the future for shorter distances will have two wheels."

How did the collaboration between Brekr and Forebel come about?
Leon: "I was looking for an electric moped as a replacement for my electric business car. My commute has been greatly reduced and an electric moped seemed a better choice. Brekr, as a Dutch designer, was high on my list. During my first meeting with Niels, the founder of Brekr, we couldn't stop talking about our shared passion for sustainability. We quickly came to the conclusion that there had to be a collaboration between our two brands. The end result is a Custom Build Brekr Model B with a very cool design, inspired by the electric eel - an electrically charged fish. Matching socks have been designed for this as a finishing touch. It was a great collaboration and we are very happy with the result."
Niels: "The most beautiful form of mobility is walking, you cannot put less strain on the planet. How cool is it that we have now launched 'electric' Brekr socks? It is an innovative way to make people aware of sustainable mobility. And the great thing is that the socks are not only functional but also tell the beautiful story behind Forebel. It is a unique combination of functionality and awareness. While talking to Leon it became clear that it would not be a boring intention. There are already enough boring socks and boring scooters. The result is unique and I'm proud of it as a seven-throttle moped."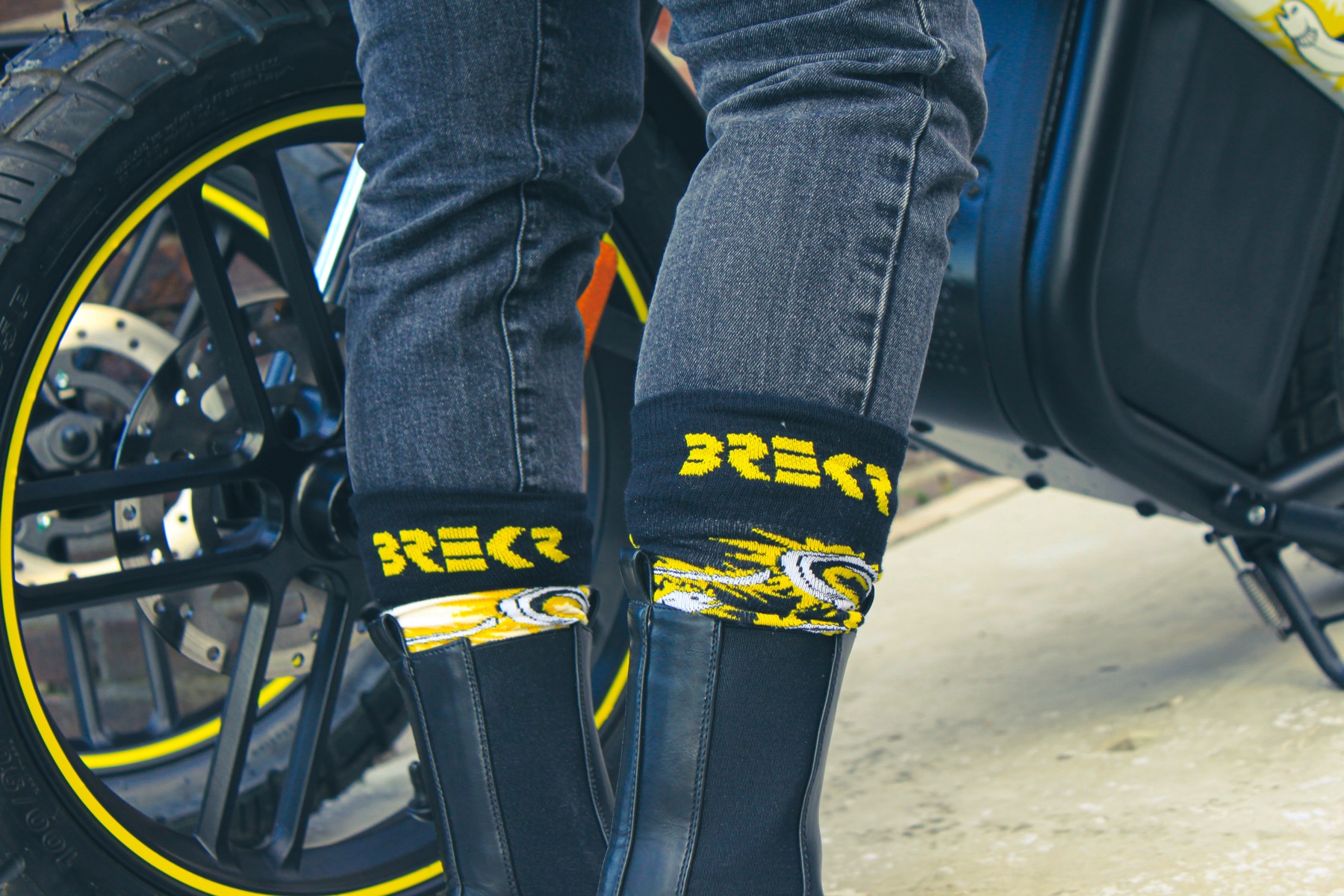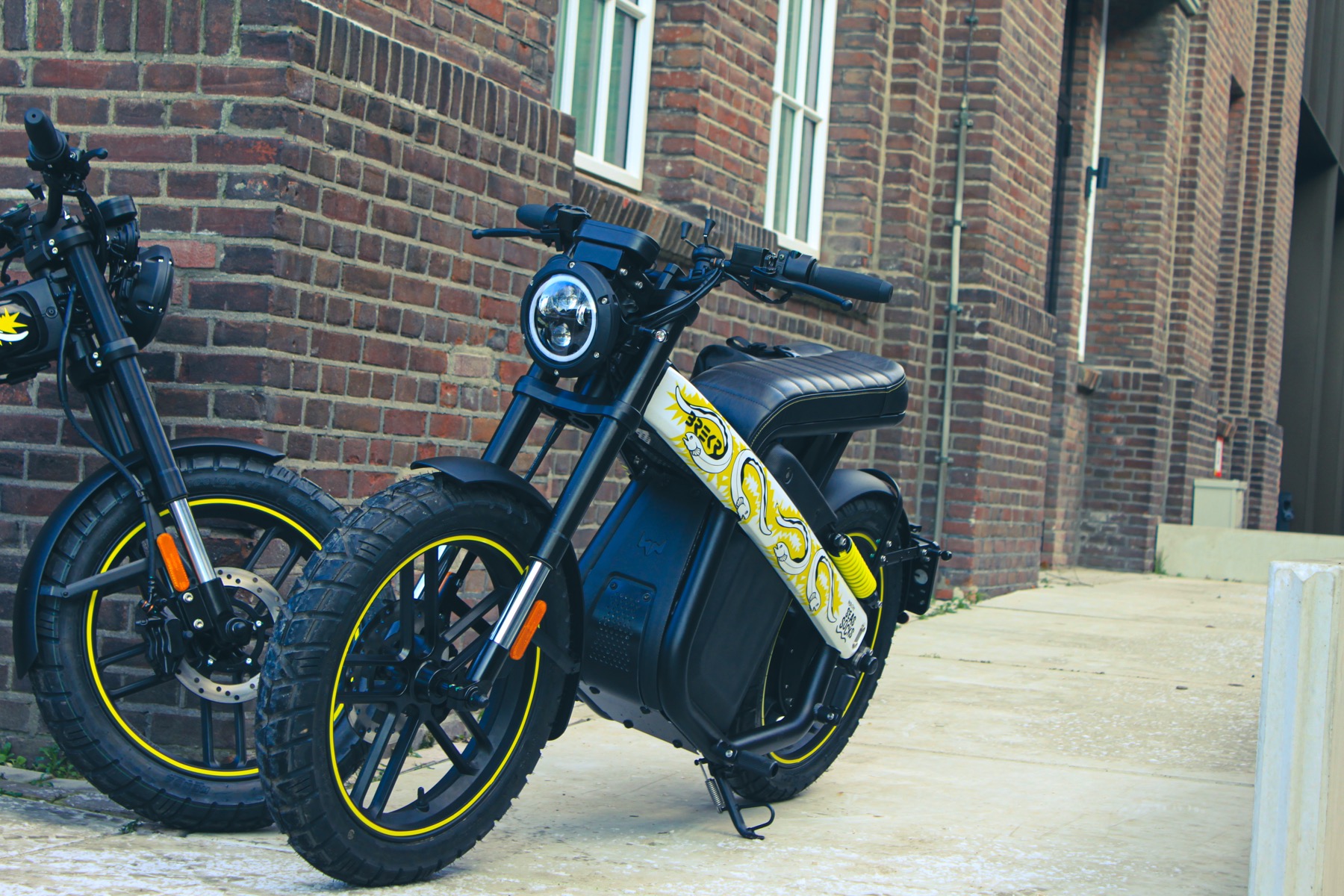 What does the collaboration look like?
Leon: "Our Forebel are designed with a strong focus on sustainability, made from GOTS organic cotton and regenerated ECONYL® nylon. The design reflects the rebellious nature of the Nozems and includes the iconic electric eels that symbolize the electric motor of the Brekr. One pair of socks also consists of two different socks, in this way we want to draw extra attention to SockbySock (an initiative that draws attention to waste by wearing different socks)."
Niels: "We made a unique custom electric Brekr Model B, especially for this promotion. The hoods differ on the left and right, just like the socks, with a white and black background with the design of the electric eel on it. The saddle is also special. Together with the Kringloop, we recover leather from old sofas and chairs. We make unique saddles out of that. There are no two the same. A similar initiative to recovering the fishing nets and partly using them for socks. That leather was used for the saddle of the custom-made moped."

Contest
Forebel is going to give away this cool custom-made electric Brekr Model B in their webshop. The contest started on February 1st and you can still participate until March 30th! It's super easy to enter our giveaway: simply register your email address at https://www.forebel.com/nl/brekr and sign up! If you buy a pair of socks in our webshop, you increase your chance of winning. In addition to the grand prize - the custom-made Brekr Model B - we will also be giving away three pairs of the exclusive Brekr socks every week as a prize in this promotion. So join quickly!

Donations
For every pair of socks sold, a donation goes to the Healthy Seas Foundation. This foundation actively collects ghost nets in different parts of the world. On behalf of Star Sock, we have already donated more than 1.4 million euros through the sale of our socks.


Order your own Brekr
Brekr can build a moped in Forebel design to order. If you didn't win the giveaway, but you want such a cool moped, order it via the Brekr website https://www.brekr.com. A donation will also be made to the Healthy Seas Foundation via this special order.

Will this collaboration continue?
Absolutely, both Brekr and Forebel continue to grow and develop. At Forebel, we are increasingly focusing on consumers looking for a 'rebellious' sock with strong sustainable properties. It goes without saying that we will continue to focus on conscious buyers who are looking for the most durable and comfortable socks. We will re-brand our brand in the coming period, but at the same time retain our sustainable core values. This re-branding will certainly lead to a follow-up with Brekr, such as the market launch of the Brekr Model F. We are already looking forward to it!